1:00 - 2:00 PM- Keynote Speaker, Nicole Bingaman, Love Wins- A Caregiver's Story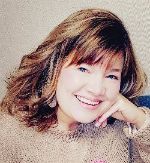 Nicole Bingaman became acquainted with the term TBI in 2012 when her adult son suffered a catastrophic traumatic brain injury.
In time, Nicole shared her response to what was happening on Facebook. As a result of her vulnerability in writing, an agent approached her. In 2015, Nicole's book, Falling Away from You, was published. The book was written from the depths of Nicole's grief as she grappled with processing all that had occurred. 
Nicole has continued her (over) 20-year career in the human service field, but she is most passionate about raising brain injury awareness. She is a staff blogger for BrainLine.org, and a contributing writer for the Mighty and TBI HOPE magazine. Her story, Love Wins, was featured in Chicken Soup for the Soul: My Kind America. Nicole serves on the Board of Directors for the Brain Injury Association of Pennsylvania and was recently named a "Hope Hero", by TBI Hope magazine. 
Nicole shares her family's journey through a presentation titled, Love Wins. The presentation supports the idea that brain injury happens to a family, not just an individual. She speaks at brain injury and medical conferences, rehabilitation hospitals, schools, and educational symposiums. 
Love Wins is a message of hope, honesty, and compassion, reminding survivors and those who love them of how incredibly special they are. The message is shared through video, photos, and personal discussion. 
Aside from things brain injury related, Nicole has a devoted yoga practice. Earlier this year she became a certified yoga instructor. Nicole loves dogs, music of all types and a good Dirty Chai. She is proud of her sons, Taylor- a warrior in every way, Avery-currently serving in the Peace Corps in Mozambique, and Tanner a song-writing, rock-climbing, organic farmer. Nicole lives with her husband, Keith, and Taylor in Mifflinburg, Pennsylvania.