9:30 - 10:30 AM -- Keynote Speaker, Kevin Pearce, U.S. Olympic Snowboarder/TBI Survivor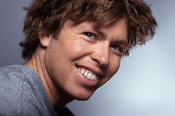 Kevin Pearce, a former professional snowboarder, is an inspirational public speaker and co-founder of the LoveYourBrain Foundation.  He is an advocate for the prevention of brain injuries and the promotion of a brain-healthy lifestyle.  Kevin catapulted onto the professional snowboarding stage in 2005 at age 18, soaring above others in his division and quickly becoming the athlete to watch in the ever-evolving sport.  With his smooth style, spellbinding tricks and panache for the unexpected, fans came to know that whatever came next from Kevin would amaze. In 2007 & 2008, Kevin earned back-to-back Quarterpipe victories at The Oakley Arctic Challenge as well as two Air&Style victories. At the end of the 2008 season, he was deemed TTR (Ticket to Ride) Champion. In the 2009 Winter X Games, Kevin brought home the Silver Medal for Superpipe, making him a strong contender to win Gold in the 2010 Vancouver Olympics.
On December 31, 2009, while training for the Olympic trials in Park City, Utah, and practicing a trick on the half-pipe, Kevin suffered a severe traumatic brain injury. Although he was wearing a helmet at the time, the injury left Kevin in critical condition and in a medically induced coma. Despite the fact that Kevin's half-pipe career was brought to an end that day, his determination and drive to overcome the catastrophe through vigorous rehabilitation, personal training and giving back to others continues to inspire his family, friends, and fans every day.
Kevin's recovery—and his journey to accept his new life—was recently chronicled in the award-winning film "The Crash Reel", an HBO documentary film directed by two-time Oscar-nominated Director, Lucy Walker.  Post-accident, Kevin has become a passionate advocate for the prevention of brain injuries and the promotion of a brain-healthy lifestyle for all people. Together with his brother, Adam, the co-founder of the Love Your Brain Foundation (Loveyourbrain.com). Their mission is to prevent brain injuries, support brain injury recovery and promote brain health. Their vision is to create a community that has a greater understanding of the importance of the human brain and consequently a smarter and healthier generation of active people.
Kevin is a Sports Ambassador for the National Down Syndrome Society, crediting his older brother David, who was born with Down syndrome, as a huge influence in his life and career. He is the 2014 recipient of The Dana and Christopher Reeve Inspiration Award from Craig Hospital as well as The Victory Award (2011) from The National Rehabilitation Hospital in Washington, DC.
While Kevin's life and career path have been altered, his love and enthusiasm for the sport of snowboarding have remained unaffected. Kevin continues to be a part of FRENDS, a group of professional riders who promote camaraderie within the sport. Everyone from snowboarding fanatics to those outside the sports world have followed Kevin's rise to the top and dramatic close call; now Kevin's passion and focus are all about inspiring others and teaching people what it means to "LoveYourBrain."