Introduction
Welcome to the Department of Assistive and Rehabilitative Technology (DART). DART was developed in 2014 as a specialized department of Brain Injury Services to provide assistive technology and cognitive rehabilitation services to both children and adults with acquired brain injuries.
Intervention services are focused on addressing the complex cognitive and physical challenges associated with acquired brain injuries. Our intervention delivery model is holistic in nature and utilizes both assistive/compensatory strategies as well as rehabilitative/restorative modalities.
The ultimate goal of intervention is to assist brain injury survivors and their support teams in developing individualized solutions so independence, proficiency, efficacy, and dignity can be maintained or improved after a brain injury.
What makes DART different?
Services may be provided within the clinic, home, or community settings.
DART offers access to state of the art technology including but not limited to:
virtual rehabilitation systems
integrated listening systems
computer-based cognitive rehabilitation
DART specialists are licensed therapists who hold a Master's degree in their field of expertise, have a minimum of 3 years of experience, are Certified Brain Injury Specialists, and members of The Society for Cognitive Rehabilitation.
How can we help?
Cognitive domain training (attention, information processing, memory, executive function)
Brain injury education
Stress management strategy training
Medication management strategies and devices
Navigation and wayfinding
Time management
Computer accessibility
Voice recognition software
Daily living aids
Physical disability management
Positioning aids
Alternative and Augmentative Communication
Learning tools and memory aids
Support for idea generation and organization
Device consult, recommendations, orientation, and training
Awareness and insight enhancement
App recommendations
Health tracking and management
Calendar and schedule setup
Computer organization structuring
Video modeling and screencast recordings
Password management and computer safety
Home organization strategies
Home modifications/accessibility
Sensory stimulation
Problem solving, consequences, decision trees
Pragmatic skill training (social skills)
Narrative development
Services from start to finish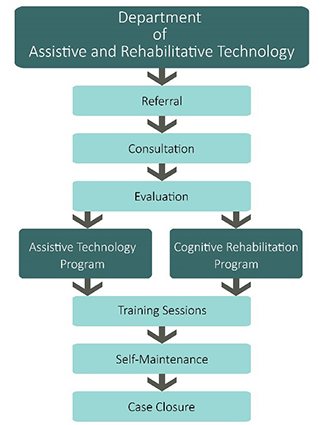 Below is a general outline of what services could look like. Please note each case is unique and will be addressed individually so the progression of services may differ from the outline below.
Consultation — an opportunity for the client to describe and discuss their needs as well as a chance for the specialist to explain DART services and connect the client to resources.
Evaluation — the client will be guided through a specialized blend of formal and informal assessments. This will help to identify their strengths and weaknesses so appropriate recommendations can be made.
Training — a collaborative effort between the client and specialist to design functional goals and engage in activities to address the client's unique needs.
Self-Maintenance — rather than immediate closure after goals have been achieved; the client will continue to receive temporary support in generalizing new skills and systems into their daily life.
Eligibility
DART serves children and adolescents who have survived an acquired brain injury. To be eligible for services the individual must:
Have documented evidence of an acquired, non-degenerative brain injury which occurred after birth.
Reside in Northern Virginia, including Cities of Alexandria or Fairfax, Counties of Fairfax, Arlington, Loudoun, and Prince William.
Generally, for optimal rehabilitation success, individuals:
Are medically stable or are actively involved in treatment to manage any complications
Are in a healthy emotional state in which learning can take place
Have begun to acknowledge or identify deficits from the brain injury
Are willing to work on challenging tasks that may induce frustration
Have energy and time to dedicate to treatment
Have a support system
Fee
The Department of Assistive and Rehabilitative Technology does not participate with any insurance providers at this time.
Fairfax County residents are eligible to pay for services on a sliding scale because of a grant DART was awarded through Fairfax County. The adjusted rate will be determined based upon the completion of the Brain Injury Services Financial Eligibility Form.
For further information regarding service fees, please contact our office at 703-451-8881 x244.
Referral
Anyone can make a referral to the Department of Assistive and Rehabilitative Technology. However, the individual with a brain injury and his/her family must agree to participate in services.
If you are not involved in any other Brain Injury Services programs, outside referrals may be made by contacting DART directly. We are happy to talk to individuals with acquired brain injury and/or people who are part of their support team (e.g. spouses, parents, friends, other medical professionals, etc.). From there we can schedule a free consultation session.
If you are already working with a Brain Injury Services case manager, you may ask them about DART services and request a referral. From there we can schedule a free consultation session.
Outreach
DART firmly believes that a significant part of best serving our clients includes educating and connecting with the community in which we work and live. As health professionals, we at DART are constantly looking for opportunities to network with others professionals who are involved in serving individuals with cognitive or physical challenges. We look to establish collaborative relationships with the other professionals who are serving our clients so together we can build a strong team in which there is constant support for the client. The fields of brain injury rehabilitation, assistive technology, and cognitive rehabilitation are constantly evolving, therefore DART strives to stay informed of the latest developments and we are eager to engage with other to expand our knowledge and experience.
If you are interested in connecting with us on a professional level please use the contact information below:
Sarah Pickford, MS, OTR/L, CBIS
spickford@braininjurysvcs.org
703-451-8881 ext 244